Kluivert admits he didn't expect such a lower Brazil
Louis van Gaal's assistant coach indicates a deep analysis of Felipão's team helped Holland get the third position
iG Minas Gerais | Daniel Ottoni and Guilherme Guimarães |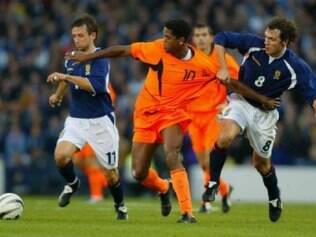 Brasília (DF). Holland's assistant coach, former forward Patrick Kluivert, looked quite pleased by the result obtained this Saturday (12) against Brazil, in which his country won and got third place at the World Cup.
Kluivert admitted that Felipão's team was very well studied by Louis van Gaal's technical committee. "We analyzed their team a lot and all went well. We couldn't be in the final, but we did our best until the end. We go away with a good feeling", he said.
The former Barcelona player didn't hide he got impressed by the lack of power of the Brazilian team in their last game in this World Cup. "They came in with a different team, with some changes, and that has some influence. They have good players, but couldn't get to their aim", he commented.
For him, the home team's attitude wasn't what was expected, much due to the previous match's result, against Germany. "I think the rout suffered in Belo Horizonte affected them in a significant way. This ended up putting on some weight", he completed.
Translated by Raquel Sodré