Germans highlight local football reformulation after exchanges
In the last twelve years, Germany has been living a complete football revolution; the prize for the metamorfosis may be the fourth world title
iG Minas Gerais | Josias Pereira |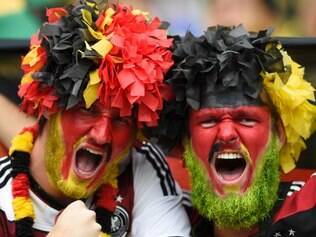 Rio de Janeiro (RJ). In order to get to 2014 World Cup big final, the German squad has taken a long way. It were at least twelve years of reformulation of the local football, a philosophy change that happened precisely with the modernization of the sport after the 2006 championship, held in the country. The interference of professionals from other countries also changed the way they play football in Germany. The experiences exchange consolidated a new game concept that may find its top this Sunday (13), in Maracanã.
"After 2004, we managed to rejuvenate the team with Klinsmann and Löw. Then, after that, we created players like Müller, Marco Reus, Mario Götze and many others who liked it. And now we are picking the fruits from all these investments and efforts. In Munich we saw Van Gaal and Pep Guardiola, two coaches who expanded our horizons. We learned a lot from them", evaluates Schweinsteiger.
"Part of what we have learned was invested now in the national team, so that all of us benefited from the foreign coaches jobs", adds the midfielder.
Another who positively evaluated this exchange was coach Joachim Löw, an assumed fan of the revolution taken to the country by Pep Guardiola.
"What we did in the last years was analyze international football. We looked for techniques, news, what is being done. We have players in great teams. Marco Reus, Kroos and Neuer are young. We can continue on the top for many years", concluded the commander.
Translated by Raquel Sodré