In order to honour Argentine´s fanaticism, coach promises full deliver
For the third title, Argentine commander believes in a warlike team and willing to honour their people's sacrifice
iG Minas Gerais | JOSIAS PEREIRA |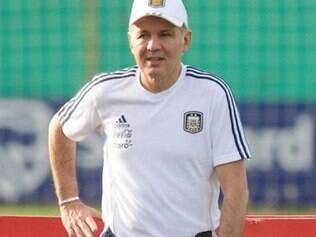 Rio de Janeiro (RJ). If they get there, the third Argentine championship may be awarded to the full dedication of Alejandro Sabella's cast, besides the Argentine supporters. The "hinchada" gave a lesson of how to be fanatic, showing up massively in every blue-and-white appointment at the World Cup in Brazil. And it was precisely to meet these supporters passion that coach Alejandro Sabella sent a special message.
"I want to say that we are going to do our best. By being humble, by sacrificing, working hard, and being simple, by giving before receiving, forgiving before demanding, we are going to plunge ourselves and give our best for Argentina to be the champion", he said.
"We are happy for the joy we have been giving our people. This is the less we can make for each one of them", added the coach.
Argentina and Germany face off this Sunday (13), at 4 p. m., in Maracanã, in Rio de Janeiro. This will be the third final in which both squads meet. With one victory each, the teams will have the opportunity to make a best-of-three set matches in the biggest football stage, which belongs to the only team five times champion of the world.
Translated by Raquel Sodré