Brazilian squad wistfully says goodbye to the World Cup
Scolari team showed not being recovered from the rout suffered by Germany and was easy prey for the Netherlands in Brasilia.
iG Minas Gerais | Daniel Ottoni/Guilherme Guimarães |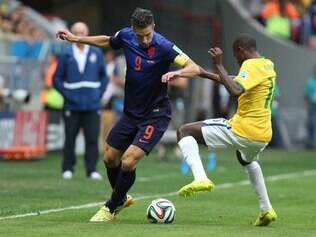 Brasilia (DF). The medal was only a symbol, a formality for the Brazilian team, which had the third as a bandage to suture almost incurable wound in the rout suffered for Germany. However, what could ease the pain ends up just increasing it. This Saturday, at the National Stadium in Brasilia, Brazil lost to the Netherlands by 3-0, goals from Van Persie, Blind and Wijnaldum. Results confirmed a known fact by many: the five times champions are not the same. Winning the Netherlands was the only way to end the World Cup worthily, since the so dreamt final at Maracana had been only in desire. Furthermore, at the stadium that has playmaker's name, Mane Garrincha, lacked the well-known Brazilian swing. Claw and race weren't sufficient to lead Brazil to a favorable outcome. While not being an excuse, the performance of Algerian referee Djamel Haimoudi helped to undermine the already weakened Brazilian psychological. The work of the arbitration had influence on the scoreboard. The penalty converted by Van Persie at 3 min was actually a foul of Thiago Silva (out of the area) in the "brave warrior" Robben. A Play that Brazilian defender, only with a yellow card, deserved a red one. Blind's goal at 17', featured with a grotesque failure of David Luiz who cut the ball into the middle of the area - originated from an offside cross made ​​by De Guzman. Aside from penalties that could have been marked in favor of Brazil and were discarded. As it was difficult to see the national team being defeated in the Cup once again, supporters did their part. Off the field the crowd tried to push Scolari team with shouts of support. Inside the lawn the thing was not so cool. Brazil was disorganized, without marking power, midfielder and sides not working, giving dead spaces for a tactically clever opponent - who knows how to be offensive. The canary scheme, one of the variations of 4-3-3, showed failure in action. Mainly because it couldn't stop the one Luiz Felipe Scolari said to be the best in the World: Arjen Robben. Scolari alone could not change the outlook of his team. The coach received support from his players, who looked like members of his coaching staff. During the match the commander had the assistance of Marcelo and Dante, who came to lawn's edge to guide some players. Even attacker Fred, waved from the bench as if trying to fix companions's position on the field. That is all for a squad that lost identity without the presence of the main striker Neymar, injured. That also proves, once again, the need to undergo a makeover if they want to paint a sixth star on the shirt.
Translated by Henrique Bastos