Among writers, German rout over Brazilians was even deeper
In October 2013, a team of Brazilian writers was massacred by a team of German literates 9-1; description of the game is similar to "Mineirão Massacre"
iG Minas Gerais | Josias Pereira |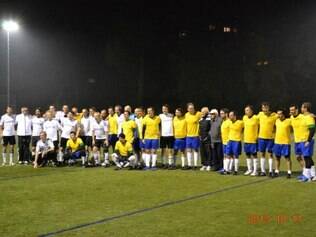 An omen. A terrible irony of fate. A premonition? Many would say so. However, what happened on the 11th of October 2013, in Frankfurt, Germany, was a sign from the gods of football that the Brazilian arrogance could be swallowed by the Germans collectivity and technique. The canary writers from Pindorama FC may say so. They lost 9-1 to Autonama - an abbreviation of Autorennationalmannschaft - the German writers team. If only they could have alerted Luiz Felipe Scolari...
On his article published on "Folha de São Paulo" newspaper, released on the 20th of October last year, writer Antônio Prata dictated the tune of a friendly between Brazilian and German literates during the traditional Frankfurt Fair. The friendly game had nuances "Fifa standard". The writers went into the field holding hands with uniformized little children and even sang the national anthems. But, when the ball rolled, all that was seen was a German ball dance.
Taking advantage of the fragility of a team that had never trained together, the Germans enjoyed the party. In one part of the text, Antônio Prata describes that "we, tough, were 11 men against a team - and not even the most barefaced Brazilian arrogance may think that individual talent, with no organization, is able to beat a well trained team. (Let alone a well trained German team)".
Any resemblance between "Frankfurt Massacre" and "Mineirão Massacre" is still not enough. Besides the fat scores of both matches, the German respect to the disheartened Brazilian adversary is touching. No olé, no back-heels assists, strikes that could irritate the adversaries and put an end to the show. The Germans won with their game and their intelligence.
Present to that match, writer and journalist Vladir Lemos confirmed the words of his fellow Pindorama FC player. "We faced a German team very well organized. We didn't have much time to get ready. These writer teams are traditional in Europe. Just to make an idea, they are the current champions and practice together since 2005. It got tough for us. It was a massacre, just as Brazil's in Mineirão", he said.
"They've got a cast of 40 players throughout Germany. Besides us having practiced little, we had a terrible luck. Only played against us the best players, those who were near Frankfurt. It was a running over. At the warming-up, we could tell how it would go. While we beat the ball and ran randomly like children, they did everything a professional player does", he added.
Despite a football very similar to the one presented by the Brazilian squad, Lemos insisted in highlighting the tactical evolution of the Brazilian writers' team. Months later, Pindorama and Autonama faced off in San Paolo and the scores were kept balanced. "The big lesson we may take from this is that if you are conscious that you are worse than your opponent, you can work on your weaknesses and evolve. We got prepared for the return, in San Paolo, got a coach, trained harder (he emphasizes), and managed to tie. That result was a victory for us. And we sent a ball on the goalpost", he concluded.
If, in literature, our illustrious writers could tie the game, on the field it's the hope of better days that lead Brazilian supporters.
Translated by Raquel Sodré