New habeas corpus request for Match director is denied
According to the businessman defense team, lawyers will present the previous decision to the magistrate to try and free suspect of leading ticket selling pack; he is a fugitive
iG Minas Gerais | Folhapress |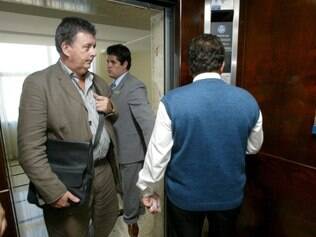 A new habeas corpus request made by the lawyer of Raymond Whelan's lawyer was denied by Rio de Janeiro Court, on this Friday (11) night. Whelan is executive director of the company Match and is under provisional detention. The information has been confirmed by the team of the foreigner's lawyer, Fernando Fernandes.
Whelan's lawyer said he must meet, until the end of this afternoon, the judge responsible for the case, Joana Cardia Jardim Cortes, in court.
According to the English man defense team, Fernandes will present the previous decision, held by magistrate Marília de Castro Viana - who had granted his request for an habeas corpus against the foreigner's temporary arrest. He said this primary injunction hasn't been revoked and it grants the English man liberty.
The lawyer's team asserts that "if the case isn't resolved, they will resort to Superior Tribunal de Justiça (STJ) and to Supremo Tribunal Federal (STF)" (upper judicial instances).
Whelan, executive director of Match - company of World Cup sales - is accused of being involved with the illegal tickets selling for games of the tournament mafia, and may be arrested at any moment. The English man is pointed by the police as the pack's supplier of tickets.
Rio de Janeiro police considers Whelan to be a fugitive with his lawyer's help since this Thursday (10), when the provisional detention warrant was emitted.
Out of the 12 indicted of participating in the pack, the executive is one of the two who were free thanks to an habeas corpus granted on Tuesday (8). The other one was taxi driver Marcelo Pavão, who surrended to the police on this Thursday afternoon.
Translated by Raquel Sodré