The last steps of an ace in Cidade do Galo
Argentina makes one more practice in Cidade do Galo
iG Minas Gerais | Guilherme Guimarães |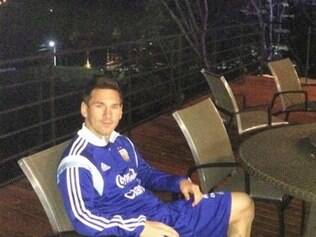 Cidade do Galo - Atlético training centre - has become, during the World Cup, the Argentine headquarters on Brazilian grounds. In the last 31 days, Alejandro Sabella's soldiers used from all the structure of the centre, one of the most modern in Brazil. And the TC's atmosphere has done them good, since they have now come back to a World Cup final after 24 years of expectation.
One of the greatest stars of football nowadays was one of those who strolled around Galo's (Atlético's mascot) home: Lionel Messi, Argentina's captain and four-times elected best player in the world.
As the team goes to Rio de Janeiro this Saturday (12), where they play the big final against Germany, in Maracanã, Messi will give his last steps on Galo's grounds this Friday (11). The activity will be completely closed, with no access to journalists.
Barcelona's ace had a calm day this Thursday (10). The clock marked 4:30 p. m., and Messi was on the field, wearing trainers, gathered with the group on a chat with Alejandro Sabella. In the 15 minutes during which the press had access to the works, this was the only contact of the wing to the field.
After the talk, that lasted seven minutes, "La Pulga" sat on a pillow - that's right, by the field, where he stood side by side with fullback Demichelis. And there he stood, until the moment the journalists were invited to leave the training field's proximities.
Press conference. The big blue-and-white star didn't show up for the press conference, role executed by two other players: wing Maxi Rodríguez and forward Kun Agüero. Maxi Rodríguez knows Messi is an "out of the curve" player, but he doesn't spare a praise for the whole Argentine group. "We have a solid group, great. Every player has his importance. Everyone here is an ace. I am sided with, in my opinion, another athlete that I consider the best of the world, Kun Agüero. This is good for us at the championship", he said.
Translated by Raquel Sodré