Felipão reinforces defense in last practice and gets Fred and Hulk off
Coach, who would opt for three forwards before, put the team behind in the activity this Friday
iG Minas Gerais | Da redação |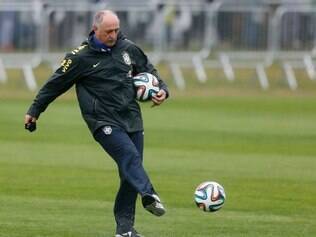 Brazilians' disbelief about the World Cup's third place dispute is still big, but, as for what it seems, the Brazilian squad coach, Luiz Felipe Scolari, may cease to the pressure and modify the team - only too late. His choices have been very criticized even before the fateful and shameful defeat to Germany 7-1.
This Friday, in the last practice before the duel against Holland - when the canary team will have the chance of diminishing a bit the Brazilian supporters' pain - Felipão promoted four changes, comparing to the team that started the match against Germany. One of them was forward Fred's exit. He was one of those who most displeased the supporters during the Cup.
Besides, another piece of news may be the coach's scheme - which, this morning, passed from an offensive formation, with three forwards, to a defensive one, with three centre-midfielders: Luiz Gustavo, Paulinho and Ramires. The complete team had: Julio Cesar; Maicon, Henrique, David Luiz and Marcelo; Luiz Gustavo, Paulinho, Ramirez, Willian and Oscar; Jô.
Fullback Henrique paired with David Luiz, since Thiago Silva has been spared, but he is not a reason to worry. The other players who left the start lineup are Bernard, Hulk and Fernandinho.
At the beginning of this afternoon, at 1:30 p. m., the Brazilian delegation leaved Teresópolis, going to Galeão Air Base, from where they will board at 3:30 p. m. to Brasilia. The canary team and Holland face off this Saturday (12), at 5 p. m., on a game that is worth the world football bronze.
Translated by Raquel Sodré