Barbecue restaurant turns into bleachers for truckers
Workers stopped at BR-381 to watch the duel between Brazil and Germany
iG Minas Gerais | Bernardo Miranda |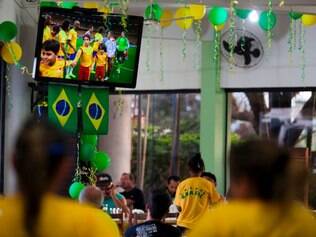 Five goals in 30 minutes and the dream of watching the World Cup final at home went down the flush to trucker Rafael de Abreu, 31. Inhabitant of Santo Amaro da Imperatriz, in Santa Catarina State, he took off the city before the Cup, rode from the South to the Northeast of the country, watched games of the Brazilian squad at roads of four Brazilian States. The game against Germany, in Mineirão, would be the last one he would see away from his family. He stopped at barbecue restaurant Rota do Sul, at BR-381 road, near Igarapé (46 km from Belo Horizonte), sat once again by himself, punched the table, swore and went away disappointed. The only game of the national squad he will be able to see with his wife and kid will be a dull dispute for the third place.
"I cut all this country driving during the Cup. I saw one game in Bahia, three others in Pernambuco, another in Rio Grande do Norte, and now here. My hope was watching the final with my woman, comfortable in my home, but it wasn't possible. Instead of losing time watching the games, I should have accelerated and gotten home earlier", lamented Abreu, who joked that the Northeast brought more luck and the people cheer harder than here.
His fellow trucker Pedro Manzato, 58, came all the way from Marilan, in the countryside of San Paolo. Instead of going on with his trip, he decided to stop and see the game. He had bet on a 0-0 draw, lost his temper at 20 minutes of the match and went back to the road. "It's a shame", he said as he left, irritated.
As Germany's goals got scored, Manzato gained followers. From the loneliness of their tables, they went back to the loneliness of the road. Some of them even wanted to go away, but couldn't. "Because of this shame it's a holiday in town and I couldn't unload. Now I have to stay around. Brazil lost the Cup and I lost a work day", mourned Richard Marcon, 40.
Those who resisted the German massacre invoked good mood. At second half, the cheers were so that the Germans increased the scores and they made even more jokes on the Brazilian squad. The main aims were Fred, Bernard and coach Felipão. "Figure if I would be here crying. These players are making heaps of money, and me suffering here. All we got left is finding another reason to smile", said Odair Miranda, 39.
The game ended, the truckers went on their roads - because, contrary to the Brazilian squad, they can't be stuck in the middle.
Translated by Raquel Sodré