After Brazilian elimination, San Paolo registers 23 burned buses
Two Civil Police vehicles followed the works and already made the first inspections in the places where the buses were destructed
iG Minas Gerais | Agência Estado |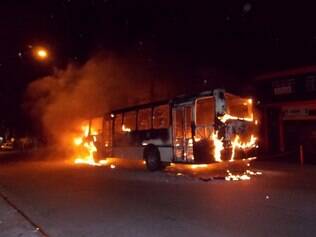 A fire in a bus garage at the Southern zone of San Paolo destroyed, at the beginning of this Tuesday (8) night, at least 20 vehicles. Other three public transports have been destroyed in other spots of the capital. The fires have been caused after the Brazilian squad's defeat 7-1 to the German squad.
Only in the first semester of this year, a survey held by São Paulo Transporte (SPTrans - São Paulo transportation company), 89 buses have been burnt - last year, there has been a total of 65 burnt vehicles. Until Monday (7), at least 112 vehicles had already been destroyed in fires in the capital.
According to SPTrans, the garage, located in Guarapiranga, Southern zone, is used by the company VIP to park vehicles that are out of service, such as old vehicles or those under maintenance. Until 9 p. m. this Monday, SPTrans didn't have information on the causes of the fire. There hasn't been register for injured people. The episode didn't affect the circulation of the bus lines run by VIP.
Avenue Guarapiranga was blocked all the way from its cross with M'Boi Mirim road, according to an agent of the Traffic Engineering Company (CET, in Portuguese). Firemen teams acted to control the flames. Two Civil Police vehicles accompanied the works and already made the first inspections at the place. The case will be registered in the 47th police district (Capão Redondo).
The other three fires in public transports have been registered in Santa Madalena park, in the Eastern zone, in Vila Medeiros, Northern zone, and in Americanópolis, Southern zone of the capital. The vehicles belong, respectively, to Via Sul, Sambaíba and to Consórcio Unisul.
Translated by Raquel Sodré