Schweinsteiger apologizes and says he is a bit sad about the result
German midfielder praised the Brazilian squad and remembered Thiago Silva and Neymar's absences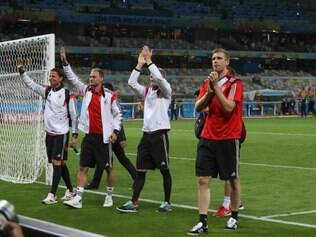 The Brazilians hosted the German squad very tenderly and elected them the most friendly of the World Cup. The Germans, on the other hand, paid the tenderness back, posed for pictures, distributed autographs and even made a videoclip with the best moments they had in Brazil. Some Brazilians, before the match, even said it was hard cheering against Joachim Löw's team.
Because of this tenderness reciprocity between the Brazilian people and the European players, midfielder Schweinsteiger even apologized to the Brazilians for the result of this Tuesday's (8) match. The player didn't celebrate the score, remembered Thiago Silva and Neymar's absences and said Brazil was doing well until that moment in the Cup.
"It's been an enormous pleasure playing against Brazil. We did what we had to do, our job. But I am a little sad with what happened to Brazil. It's a good team and did a great work. I'm sad for Neymar and Thiago Silva, who couldn't play against us. But I believe that, for the Cup, it has been very good that Brazil got to the semifinals", he said.
Translated by Raquel Sodré