Super newspaper's cover gets the spotlights in American television
Pun with the words "hexa" and "vexame", in Portuguese, was shown by traditional NBC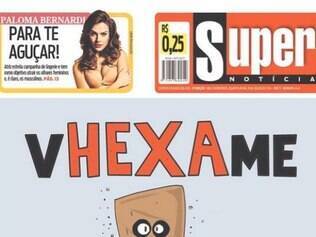 The pun with the words "vexame" (shame) and "hexa" (six-time), "VHEXAme", printed on Super Notícia newspaper cover of this Wednesday, has gotten the spotlights of international press. The traditional North-American channel NBC has shown Super's cover on their website and on their Twitter.
In the article, the vehicle presents Brazilian newspapers covers the day after the shameful rout 7-1 for Germany, and Super Notícia has been a centrepiece.
Besides the pun, the cover shows a man dressed in the Brazilian squad jersey and with his face covered by a paper bag, ashamed of the big rout. The cover idea came from Super's editor, Rogério Maurício, and the art is signed by the newspaper cartoonish, Duke.
Translated by Raquel Sodré