In Mineirão, Brazil is eliminated with biggest rout of its history
Right on a World Cup semifinal, the Brazilian squad loses 7-1 to Germany and is out of the World Cup
iG Minas Gerais | Thiago Nogueira |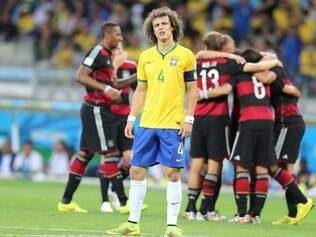 1950 Maracanazzo? Forget it! Humiliazzo! Poor Mineirão, now stage for the biggest shame of the world football. There is no magic, no supporters, no World Cup held at home that may make a team without a soul, without union, without technical quality to conquer anything.
Germany - a team intelligently built by Joachim Löw which is in its second Cup - taught a lesson, put Brazil to play, played a joke, won "olés'. It all ended on a 7-1 in a World Cup semifinal. What was that? Never the five-times champion of the world had suffered so many goals in 90 minutes. Simply the worst defeat of the Brazilian squad in 103 world games.
Where was all the speech that they would "play for Neymar", eliminated from the Cup because of an injury? Bernard, family silver (he plays for Minas Gerais team Atlético Mineiro), chosen to substitute the star, wouldn't solve anything by himself. Where was forward Fred in the whole competition? Does winning a Confederations Cup serve as a comparison basis? Is it Felipão's fault? At the disastrous sixth title dream, we won't have enough questions without answers and there will be many candidates for the title of 2014 Barbosa.
The place was spectacular, never seen before in 49 years of Mineirão. The rehearsed shouts showed themselves full of soul in Pampulha. Despite 90% of the stadium being painted in yellow, the Germans were cold and centred. The party started with Müller, right at minute 11.
Brazil had ball possession, but didn't know what to do with it. The players seemed beginners, frightened, didn't complete one single strike. Klose hit their second at 23, Kroos scored the third the following minute and the fourth at 26 minutes of the match. Impressive! Piece of cake! Want some more? Khedira, at 29. Yes, four goals in seven minutes, all in first half.
And Germany even soothed it for the Brazilians. It looked like they were pitying Brazil, that was completely surrendered. The game could have ended right there. The first half ended without any goal kick by the Brazilians.
In second half, at least, with Paulinho and Ramires on the field, Brazil changed its attitude and stopped being apathetic. In the first minutes, it all stopped in Neuer's hands. And that was it. Merciful, the Germans only scored two more goals: Müller scored one more to become the Cup's highest striker, and Schurrle, the last one, to end up the agony. Oscar scored one for the sake of Brazil's honor. Oh, and we must still dispute third place. What for?
Translated by Raquel Sodré