Felipão took the blame for the squad's shame and apologized
Coach lived this Tuesday, in Mineirão, the biggest shame of his professional career and of biggest World Cup winner's history
iG Minas Gerais | Felipe Ribeiro |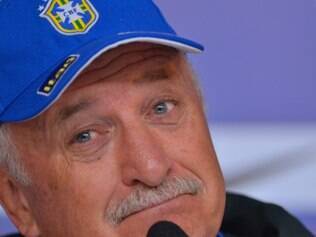 Still on Mineirão's field, right after Germany's rout 7-1, coach Luiz Felipe Scolari gathered the Brazilian squad players in the middle of the field and started talking one by one, beating on his chest and holding himself accountable for the shame that goes down in Brazil's and the world's football history.
The commander wrote his name positively in history in 2002, when he conquered Brazil's fifth title. But this Tuesday he lived the saddest chapter of his career - one that will be inked onto the sports books pages. The score was the biggest suffered by the Yellow Canaries, that celebrated its 100th anniversary in 2014, in its history.
We were still left with the expectation of a press conference with Felipão, desiring to know what would be the coach's first words to the media, after a reality shock that revealed a team much inferior - technically, tactically and physically - to Germany - great candidate to their fourth world title against Holland or Argentina.
To the sound of Bossa Nova songs, played by Fifa DJs in the press conferences room of Pampulha Giant, journalists from various countries throughout the world awaited anxiously for the coach's presence, so that he could talk about the day the yellow-and-green tradition failed like never before.
"Who is accountable for the choices? I am. The catastrophic result may be shared with the group because they want to say so. But the team's choices, the tactical part, I'm the one responsible for that", highlighted coach Luiz Felipe Scolari.
The coach apologized to the Brazilian supporters and thanked the support received even when the scores were badly adverse. "I apologize for the negative result, for not having gotten to the big final and we will go on honouring our team in the dispute for the third place. I thank for the support we got even when we were losing 5-0", said Felipão.
In the end, the commander praised the adversary and said his team did what they could. "We tried to do what we were in conditions of, we did our best and we lost to a big team that fantastically defined the match in four goals. There has been a breakdown and they took that chance in a way we couldn't fight that", he concluded.
Translated by Raquel Sodré