Ashton Kutcher goes to stadium to watch the match
Actor arrived in Brazil last Monday (7), followed by his fiancee, actress Mila Kunis; he is going to watch live the match that guarantees a place into the big World Cup final
iG Minas Gerais | Da redação |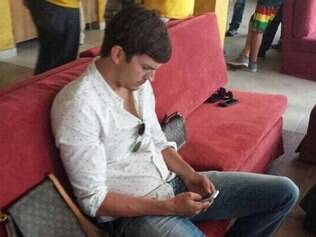 Ashton Kutcher came to Brazil followed by his fiancee, actress Mila Kunis, to watch the match between Brazil and Germany, that is going to be held this Tuesday (8) afternoon, in Belo Horizonte.
The actor is already in Mineirão, stadium of the match, according to photos posted on blogger Hugo Gloss' Instagram.
Besides the North-American actor, also in the stadium we must have: singer Anitta, musician Thiaguinho and his girlfriend, actress Fernanda Souza, and the married couple Fernanda Lima and Rodrigo Hilbert, followed by their kids, the twins Francisco and João.
Translated by Raquel Sodré