Brazilian squad gets to BH and is unconditionally supported by fans
According to the Military Police, approximately 500 supporters went to the hotel to cheer for Felipão's soldiers
iG Minas Gerais | Josias Pereira and Guilherme Guimarães |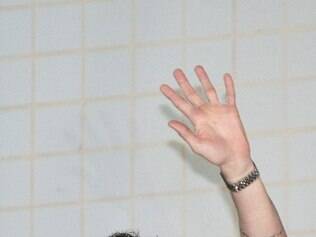 Under shouts of "Eu acredito" ("I believe") and "O campeão voltou" ("The champion is back"), the Brazilian squad arrived to Belo Horizonte this Monday (7), for the dispute of the World Cup semi final, that will be held this Tuesday (8) at 5 p. m. in Mineirão. According to the Military Police, approximately 500 supporters went to Ouro Minas hotel to cheer for Felipão's soldiers. Among them there were many families and children, who got extremely excited when the Brazilian bus showed up at heavy trafficked Bernardo Vasconcelos avenue, at Northeast region of Belo Horizonte. Traffic got complicated, but nothing that would trip the party.
The support was an incontestable demonstration that the Brazilian supporters are for the national squad even without ace Neymar. "The squad started a little weak, but in this last game they gave lots of hope to all the supporters. I hope they will now go on in this rhythm and get the title. Even without Neymar, we have full conditions of winning. We are here to support them, pass them this energy", said the student Thiago Ferrão, 16.
When the players got off the bus, there was total hysteria. Everyone had their name shouted, specially the ones who are literally at home: Victor, Bernard and Jô (Atlético's players). And, not having Neymar, the supporters soon elected another idol: David Luiz. The defender was the most cheered by the supporters. And he kindly retributed all the affection with waves and lots of excitement.
This excitement, by the way, is going to be more than necessary. On Tuesday, the team will face nothing less than the German squad's power. Besides lots of technique and strength, the players will have to show an overcoming power. Minas Gerais supporters already promised to play their part.
"It's going to be a tough game, great squads are going to be on the field, known in the whole world. But we can win. With the supporters power and playing at home, Germany won't bear it", said the civil servant Sebastião Fernandes, 39, who showed lots of enthusiasm.
Translated by Raquel Sodré