Supporters have a glimpse of Germans, but promise vigil at hotel
Group has waited for German players for more than an hour, but cast entered the hotel making no stop; many are still at the place
iG Minas Gerais | Fernando Almeida |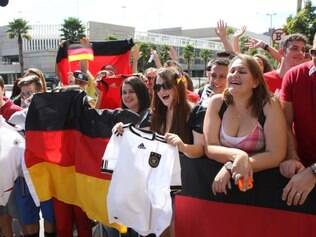 A few hundred supporters followed the arrival of the German delegation in front of the hotel where the Germans will be hosted. Many waited for more than an hour to see their idols get quickly off the bus around 1:10 p. m. and get into the place where they will stay for the match against Brazil, this Tuesday (8), for the World Cup semifinals.
Under a hot sun, the German Christof Schaller waited for his compatriots and didn't get disappointed with the players' quick appearance. "I already expected it would be this way. I was glad for, at least, having seen great players such as Klose, Kroos and Podolski", said Schaller, who lived in San Paolo for three years and is now on vacations in Belo Horizonte.
"Unfortunately, I didn't manage to get tickets for the match, but I'll watch it with some Brazilian friends in a barbecue party. I'll be way outnumbered, but I'll cheer for a victory, of course. I believe it's going to be a tough match; I believe the score will be 2-1, with Kroos as centerpiece", he completed.
Around the hotel, some supporters, most of them Brazilians, have promised to stay in front of the hotel until the end of the afternoon, when the Germans head to Mineirão for a brief workout and a press conference - scheduled to start at 5 p. m.
"I'll be here until when it takes. I really want to see Neuer and the other players too. I'll wait until their time to go to the practice to see if I can get more photos and, perhaps, also an autograph", said Fernanda Assis, who shows the photographers a tattoo on her left thigh of a German symbol.
A group of supporters, most of them children, rehearse some "Deutschland" shouts and other songs to draw the players' attention. The intention is that they, at least, wave from their rooms' balconies. According to some supporters, the charismatic centre-midfielder Bastian Schweinsteiger showed up at one of the windows and waved to his fans.
In order to keep the place's security, the Military Police has placed 30 officers, besides two police vehicles of the Metropolitan Tactic Patrol (Rotam, in Portuguese). Besides the chaotic traffic in front of the hotel, no other incidents have been reported to the police.
Translated by Raquel Sodré