Trains will have smaller intervals on the holiday this Tuesday (8)
Between midday and 10 p. m., the trains will pass each 11 minutes in Belo Horizonte's stations
iG Minas Gerais | José Vítor Camilo |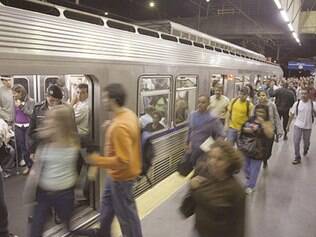 The Companhia Brasileira de Trens Urbanos (Brazilian Company of Urban Trains - CBTU, in Portuguese), informed on this Monday (7) afternoon that the intervals between the trains in Belo Horizonte are going to be reduced during the holiday this Tuesday's (8), when the match between Brazil and Germany for the World Cup semifinals will be held in Mineirão at 5 p. m.
According to the official report published by CBTU, besides those who are going to the stadium, the reduction will also benefit the ones who intend to enjoy the shows scheduled for the Fan Fest, in Expominas.
In order to get to the Fan Fest, the passengers may get the train in any station and get off at Gameleira station, which allows easy access and is located less than 400 metres away from the Cup party. The Fan Fest is held from 11 a. m. to 10 p. m. and is free.
Those who still have to withdraw their tickets to the match may opt for trains to go to Santa Efigênia station, installed right outside Boulevard Shopping, where the ticket centre is located for the distribution of Fifa tickets.
Normal working time for the trains is from 5:15 a. m. to 11 p. m. This Tuesday, the interval between trains will be of 11 minutes from midday to 10 p. m.
Translated by Raquel Sodré