Mascherano alerts for furious Holland
Dutch have been huffy since their defeat to Spain in last Cup; Argentines request patience and calm to get to the finals
iG Minas Gerais | Josias Pereira |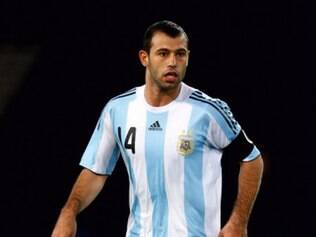 Next step Argentina must take on their way to their third world championship is Holland. Against the Oranges, owners of a strong attack and a refined technique, every oversight may cost a lot.
Van Persie, Robben and their fellows have arrived to Brazil desiring their change. Four years ago, the possibility of an unprecedented title, once again, didn't come true. But the Argentines are anxious to write another sad chapter to Holland's history in world championships. According to centre-midfielder Javier Mascherano, there will be plenty of pain and struggle. And that also on Holland's side, because they are furious.
"They have a lot of individual quality. They have already played a world final and are really eager and furious. They will want a revenge of what they lived four years ago (when they lost the Cup to Spain, in South Africa)", said Mascherano.
For the battle that will be held in Itaquerão next Wednesday at 5 p. m., Mascherano, known for his virility and explosion on the field, recommended calm. That's right. Patience to make Argentina get to a place not seen for long.
"(In this game), concentration will be the key, the way how we are going to prepare ourselves, the patience we must have at each moment, this will be the key to our dream of getting to the big final. We are in a place where Argentina hasn't been for long. These opportunities only pass once in a while and we can't leave that one escape", said the player, who also highlighted the Argentine group's harmony.
"A month and a half ago we started practicing together. Since then, the companionship has been spectacular. I hope all this has the best possible end on the 13th (big final's date)", he concluded.
Translated by Raquel Sodré