Pataxos watch the game in high definition
Indians followed the match valuing their customs and supporting "Xukuru" Paulinho
iG Minas Gerais | Bernardo Miranda |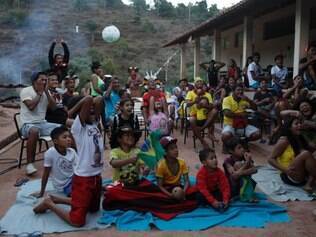 Last year, on July 25th, the Pataxós cried a tough defeat. Pataxó squad lost the final of indigenous games in a penalty shootout to rivals Xukurus. To make matters worse, the team lost indoors, since the community of Carmésia, in Vale do Rio Doce, hosted the edition.
One year later, with no reason to grudge, 60 village members gather in front of a TV to root for the success of the most illustrious Xukuru. Player Paulinho has in his blood the offspring of a rival tribe, but he now represents the indigenous people and awakens the pride of Pataxó nation.
The Match of Brazil vs. Colombia was anxiously expected by the village, which has started the preparation the night before. The men penetrated the forest reserve of over 300 acres in search of a capybara to be served during the event. In the contest, the hunt had the upper hand. "it made an olé on us," said the smiling chief Txonãg Pataxó, aged 34. Without the wild animal, beef ribs were turned back into the fire.
The ability of indigenous hands also came on the scene, but this time the craft was the installation of cable TV satellite. So the village watched in high definition Brazil opening the scoring. "We are Indians, we retain our culture, but we're not stuck in time. We have evolved as everyone, and we can not be deprived of anything," said the chief of the technology in the village.
What has given luck to Brazil, they have no doubt: timbero - a stuffed pipe natural herbs that goes mouth to mouth before the game. "Give luck and heals any respiratory illness. For sinusitis, is a marvel!," guarantees Suin Pataxo, after a good puff.
In the crowd, indigenous faces adorned with headdress, dressed on a Brazil's shirt and reactions of any other supporter. Once the final whistle that sacramented the tight victory blew, cries gave way to a big singing and a native dancing. A reaction whom more than vibrated with a game, reaffirmed as the Brazilian people of Brazilians. "We have been here for over 500 years. Struggling to have a right to our land and will not be here that they will take us to our cup," says Suin Pataxo.