Neymar gets spinal bone injury and is out of the Cup
Player got treacherously kneed on the back by Colombian Zúñiga at 86 minutes at the Brazilian victory over Colombia 2-1
iG Minas Gerais | Da redação |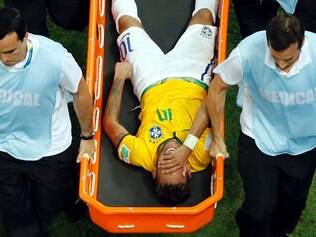 Ace of the Brazilian squad in this World Cup, forward Neymar is out of the competition after having suffered a fracture in his third spinal bone. The player has been treacherously kneed by Colombian Zúñiga at minute 86 of the Brazilian victory over Colombia 2-1 this Friday, in Fortaleza. The match was for the quarter finals.
According to information by the Brazilian squad doctor, Rodrigo Lasmar, a surgery won't be necessary. The conservative treatment, however, makes not viable his recovery in time for next Yellow Canaries appointments.
"The computerized tomography showed a fracture of the transverse process in the third lumbar vertebra. That means it's a fracture in the spine region, not a serious fracture, that would need a surgery, but it limits his movements, he is going to be in pain for some time, he needs an immobilization, a lumbar belt to control the pain", said the doctor.
"Unfortunately, he won't be able to play, a one week term is too short for him to have conditions to play again. But regarding to recovery expectations, it's a fracture that evolves very well and expectations of a future consolidation are very good", added Lasmar.
The Brazilian squad goes back onto the field next Tuesday (8), against Germany, at 5 p. m. in Mineirão. The match will be valid for the World Cup semifinals. Besides Neymar, Luiz Felipe Scolari won't be able to count on capitain Thiago Silva, suspended after his second yellow card.
Translated by Raquel Sodré