Germany gets to their fourth World Cup semifinals in a row
Joachim Löw's team has overcome Brazil, which was semifinalist three times in a row in 1994, 1998 and 2002
iG Minas Gerais | Folhapress |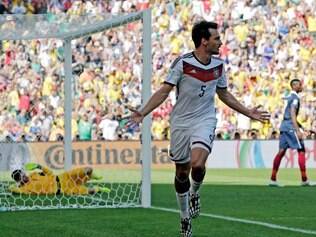 São Paulo (SP). With the victory over France 1-0 this Friday (04), Germany has become the first squad to get for the fourth time in a row into the semifinals of a World Cup.
Three times world champion, the Germans were got the third place at home in 2006 and in South Africa in 2010. In 2002, the team was second place, after losing the big final to Brazil.
With their fourth qualification in a row to a semifinal, Germany has overcome Brazil, which was a semifinalist three times in a row in 1994, 1998 and 2002. In 1994 and in 2002, the Brazilian squad was champion for the fifth time. In 1998, it got second place, losing the decisive match to France.
With this Friday's victory, Germany will face in the semifinal the winner of the confrontation between Brazil and Colombia, which face off in Fortaleza. The semifinal will be held next Tuesday (8), at 5 p. m., in Belo Horizonte.
Translated by Raquel Sodré