Brazil prefers adversary with Colombia's characteristics
Thiago Silva and Felipão remembered that South-American team has style similar to Brazil's
iG Minas Gerais | Daniel Ottoni |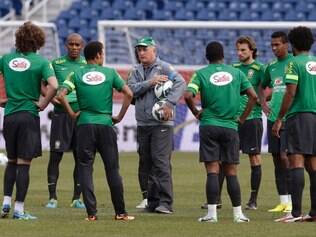 Fortaleza (CE). Despite recognizing the qualities of Colombia, Brazilian adversary this Friday for the World Cup quarter finals, fullback Thiago Silva, of the Brazilian squad, believes the South-American team has characteristics that may favour the yellow-and-green game. Both teams face off at 5 p. m. in Arena Castelão, in Fortaleza.
The opinion is based on the players offensiveness. Commanded by José Pékerman, they have a game style aggressive and involving. "I prefer facing a team like that than a closed one, which doesn't give much space. They have a game school similar to the Brazilian one, really technical. When you have a game between two teams that play this way, the winner is the supporter", reminds the Brazilian captain.
Thiago Silva knows well some players who'll be on the other side, like fullbacks Yepes and Zapata. While the first one is his fellow at PSG, the second one worked by his side in Milan. Silva also knows well centre-midfielder Aguilar, frou Toulouse-FRA.
"They have a cohese team. Despite knowing well some players, that doesn't mean much. The difficulties will show up just the same", guarantees the fullback.
Felipão also views very favourably the duel against Colombia. For another reason, though: a rivalry less hard than the one existing against the Argentinians, Uruguayans and Chileans, for example.
"Against these three teams, it's a more warlike atmosphere. They play in a different spirit, besides their trickery and cunningness. We don't have that. Colombia shows a well played football, joyful. Also we have our qualities and will present them some difficulties", guarantees the coach.
Translated by Raquel Sodré