Savassi will be surrounded by grids this Friday
The measure is part of the Military Police's strategy to grant security and control access to the place; scheme "passes one" is already standard in Mineirão
iG Minas Gerais | Juliana Baeta / Aline Diniz |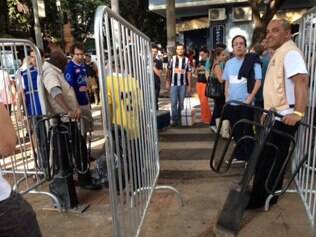 After having become the most popular point to watch the World Cup matches in Belo Horizonte, Savassi will gain a bigger police force and a system of grids and selection this Friday (04). The aim is guaranteeing the security for natives and foreigners who will watch the dispute between Brazil and Colombia at the place. The Military Police (MP) expects more than 30 thousand people at the area.
For the first time during the world championship, Diogo Vasconcelos square (Savassi square) will be completely surrounded by grids, according to lieutenant-colonel Helbert Figueiró, commander of 1st MP Headquarter. The structures will be placed at the corners of Getúlio Vargas and streets Fernandes Tourinho, Alagoas, Paraíba, Tomé de Souza and also at the corners of Cristóvão Colombo avenue and streets Alagoas and Tomé de Souza. "The event has gained great proportions. It's necessary organizing and keeping control", explained the commander.
Also according to the policemen, the equipment will make it easier for the police officers to make a selection aiming to avoid the entrance of unauthorized sellers, people with guns and bottles of glass, among others. The action will help preventing smaller offenses, such as cell phones, wallets and documents theft. The commander also said that the headquarter has registered 83 police reports of various thefts only last saturday, when the Yellow Cannaries faced Chile.
Capacity
Another strategy organized by the MP is limiting the number of people in the space. "We will count them visually, when people are around 30 thousand, we won't allow anyone else to get in", explained Figueiró. About the security of the grids, the commander guaranteed that there is no risk that they may block, for example, the space evacuation in case of any incident. According to the commander, the structure is removable and that can be done quickly.
Translated by Raquel Sodré