Overpass' collapse stands out on international press
Many press vehicles reported the tragedy in Minas Gerais capital, which ocurred ten km from where the Argentinian squad is based
iG Minas Gerais | Da redação |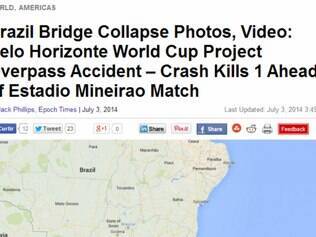 The collapse of an overpass in Pedro I avenue, in Belo Horizonte, this Thursday, has been reported also by Argentinian and international sports press. The attention is due to the fact that the Argentinian squad is concentrated 10 km from where the accident happened, in Vespasiano, at Atlético's training centre.
Newspaper Olé calls the fact "World Collapse" and explains that the avenue "is part of the way already travelled twice by Argentina bus".
Argentinian TYC Sports also mentions the distance between the place of the accident and Cidade do Galo, and informs that "there is no information on fatal victims".
Another information vehicle of the country, Clarín highlights that "a bridge constructed for the world championship fell over a public transport 10 km away from where the Argentinian squad is".
Over Europe
Marca, from Spain, has it that "at least two people died in Belo Horizonte, city that will host one of the semifinals of the World Cup, after the collapse of an overpass".
In Italy, Corriere dello Sport informs that "at least two people died and 19 got wounded after the collapse of an overpass in the city of Belo Horizonte".
In England, The Guardian informs that "an overpass, which was part of the infrastructure plan of the World Cup, collapsed over some vehicles". The publication draws attention to the Brazilian administration's expenditures, the long delays in projects conclusion and the protests in Brazil.
Translated by Raquel Sodré