"Barra brava" who wore costume to go unnoticed mocks the police
Bebote Álvarez is been searched by the authorities with an immediate deportation order, but has already broken into two matches
iG Minas Gerais | Folhapress |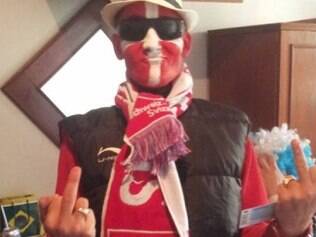 Since the beginning of the World Cup, 196 people have already been deported for being irregularly in the country, but one individual - still on Brazilian grounds - has been intriguing the police. It's Pablo we are talking about, also known as Babote Álvarez, Argentina supporter who's been managing to dribble every and anyone to get into his national squad's matches.
His last feat was at the game against Switzerland, this Tuesday (01). He dressed as a Swiss supporter to go unnoticed at Itaquerão stadium, since he's been searched by the police to be deported immediately.
Bebote Álvarez has even mocked the police, posting a photo on his Facebook page, celebrating the "victory" - the second one - in his goal of following Messi's team over the championship. Before that, he had already broken into Beira-Rio stadium and saw the "hermanos"* beat Nigeria 3 to 2.
"I thank those who entrusted me the tickets for today's game. We managed these tickets to celebrate: Bebote 2-0 Argentinian Federal Police", he ironized on the social network.
The "barra brava" is the leader of a dissenting group of the Independiente and of Hinchadas Unidas Argentinas (HUA) who gathers other organized groups of supporters to cheer for the national squad. He is one of the most feared supporters, having his name involved in numerous cases at least polemics. He got in Brazil through the frontier with Uruguay and is in the country clandestinely.
Bebote has on his shoulders accusations to various crimes, such as being responsible for hanging the dogs put near Libertadores da América stadium when Independiente team fell for second group of Argentinian Championship. Besides that, he is also investigated for coercing athletes after having promised to shoot midfielder Fabián Vargas, in case he accepted being transferred to Racing.
He has been pointed out as the one who ordered that the family of an Independiente directors was kidnapped. He did that after telling the man that the supporters wanted to catch him. It's also Bebote who controls ticket dealing at Independiente's games and eases the work of irregular car watchers around the stadium. For being quite familiar with the players, he gets prizes, such as jerseys and even medals.
The Argentinian police has listed 2.100 barra bravas who are searched in Brazil during the World Cup. Only 40 have been deported so far - 19 of those were caught in a police operation held at Minerão, during the Argentinian match against Iran, but only two of them were expelled of the country.
* "Hermanos" is how Brazilians call Argentinians
Translated by Raquel Sodré