Hero of Atlético, Victor sees Brazilian squad has champion's luck
In the last match, Brazilian squad faced penalties shootout dramma in Mineirão; same situation was lived by local team Atlético in 2013 Libertadores Cup
iG Minas Gerais | Josias Pereira |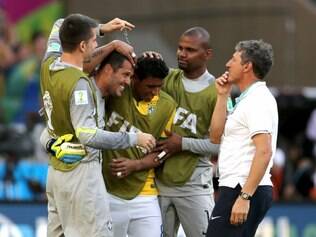 Last Saturday (28), the Brazilian squad faced an emotional battle to overcome Chile in Mineirão and guarantee their place in the World Cup quarter finals. In the last minute of the prorogation, Chilean forward Pinilla hit a ball on the goalpost. The strike could have ended the dream of the sixth Brazilian world title. Shouting "I believe!" - same chant echoed by Atlético's supporters in the campaign that granted the team the unprecedented Libertadores Cup title - the national squad counted on an inspired performance of goalkeeper Julio Cesar at the penalties shootout. There have been two defenses and one ball on the goalpost.
One of Atlético's title heroes, goalkeeper Victor evaluated positively the signs that follow the Brazilian squad. For the bowman, the situations faced by the team are similar to the ones lived by Galo (Atlético's nickname) last year.
"In my case in Atlético, there have been signs that the achievement was possible. That penalty against Tijuana was one of them. It was champion's luck. I see that ball on the goalpost from Chile forward as a good omen that Brazil has situations in its favour, of course, together with our players' competence. I think we are moving strong towards the next match (against Colombia)", said Victor.
Besides the positive evidences, faith was another point touched by the goalkeeper during the dramatic game against the Chileans. Before the penalties shootout, the player has handed his rosary to Julio Cesar. The object has turned into an amulet to the N12 at his memorable performance in Minas Gerais local team. Curiously, the shootouts made on Saturday were disputed on the same side where Atlético conquered the Libertadores - when Victor also used a rosary during the penalties dramma.
"There's faith and superstition. In my case, I consider it as faith. I am a religious person and try to reinforce my spiritual side. In that game, I don't usually take my rosary to the field. I decided to take it in the dressing room, I knew how difficult that match would be. It was a way I found of trying to strengthen myself and my colleagues. I hadn't thought beforehand handing my rosary to Julio", explained Victor.
"The moment itself gave me the inspiration to do so. I asked him if he would like to take it to the goal. I explained the story and he took it all very well. It has been a further reinforcement to Julio, but we can't forget to emphasize his competence. He prepared himself for it and I'm sure he will help us a lot during the competition", concluded the black-and-white (Atlético's colours) goalkeeper.
Translated by Raquel Sodré