Fifa chooses David Luiz as best player of the World Cup until last-16
In ranking made by Castrol, Brazilian surpassed Benzema, Robben, Neymar and even Thiago Silva himself
iG Minas Gerais | Folhapress |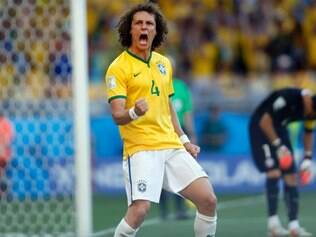 The best player of the World Cup, after the last-16 disputes, is the Brazilian fullback David Luiz. The conclusion has been reached by Fifa, which, together with a sponsor, organizes an athletes' performance ranking.
In four matches, David Luiz recovered ball possession 24 times, got 77,9 percent of the passes right and scored one goal, against Chile. In third place at the end of the first phase, the Brazilian defender surpassed Colombian midfielder James Rodríguez, former leader and current highest scorer of the competition.
Even scoring two goals over Uruguay, Rodríguez has fallen one position. He is in front of French forward Karim Benzema.
The list of the ten firsts count on two more Brazilians. Forward Neymar scaled from eighth to sixth position, while fullback Thiago Silva passed from ninth to seventh.
Chilean Claudio Bravo is considered the best goalkeeper. In the ideal squad, formed by the bests of each position, there's no space for Neymar, nor to Argentinian Lionel Messi.
Check below the top 10:
1 - David Luiz, fullback, Brazil, 9,79
2 - James Rodríguez, midfielder, Colombia, 9,74
3 - Karim Benzema, forward, France, 9,7
4 - Arjen Robben, forward, Holland, 9,66
5 - Jan Vertonghen, wing, Belgium, 9,62
6 - Neymar, forward, Brazil, 9,59
7 - Thiago Silva, fullback, Brazil, 9,56
8 - Ivan Perisic, midfielder, Croatia, 9,53
9 - Johan Djourou, fullback, Switzerland, 9,5
10 - Thomas Müller, forward, Germany, 9,48
Translated by Raquel Sodré