Waste pickers transform trash into dreams at the World Cup
Documentary shows who are the workers responsible for keeping the city clean during the competition
iG Minas Gerais | Ricardo Corrêa |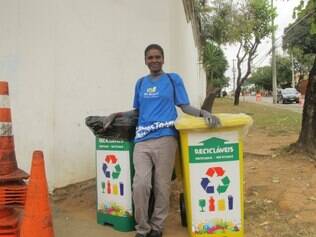 On the 14ht of June, 2014, Brazil came to know Maria Sueli dos Santos, a recyclable materials picker who provided an example of citizenship and sensitiveness when she evaluated the World Cup in her country. After the declaration she gave to O TEMPO newspaper, the Vespasiano citizen (29 km from Belo Horizonte) got famous, even came to be exalted by former president Lula and drew attention to the work of the dozens waste pickers at the Fifa areas of Mineirão and Fan Fest in Belo Horizonte.
After years opting for hiring companies to do the job, for the first time in history the municipal administration of Belo Horizonte accepted hiring pickers cooperatives to clean the city at an event. The result has been fantastic. A picker never lets even one can of soda go to the sanitary landfill, because they know the loss means less money for them.
While Brazil cheers and recovers from the strong emotion flow of each game, there are the pickers, gathered in a storage in Pampulha region for selecting, compacting and preparing for sales every waste the supporters leave behind at the matches zones. All the result gotten is being divided by dozens of members of many cooperatives united for this job. It was to reveal this side of the Cup that our reporting team spent a morning with them, the day after the match between Belgium and Algeria, in Mineirão.
In the middle of a focused and exhausting work, they highlighted their achievements, their dreams, and give loads of examples for those who are dispirited, hopes for work to knock on their door and don't look for opportunities of making something special and different from their own life.
Translated by Raquel Sodré