Illegal ticket dealers act freely in Fortaleza before the game
Tickets for different stadium sections are sold for US$ 889
iG Minas Gerais | Daniel Ottoni |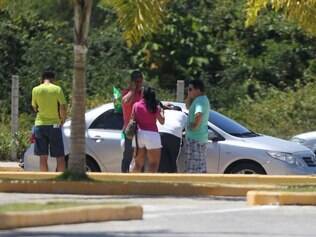 It's the World Cup but, at some points, we come to doubt this certainty. The action of illegal tickets dealers few days before the match between Brazil and Colombia, on Friday (04), in Arena Castelão, happens just like in any other day when a decisive match is held.
Despite the prohibition and the expectation of a biggest siege around them, the offer, buy and sale of tickets are made freely in Fortaleza's streets. At least there, Fifa standard was left out. The biggest football entity didn't stop them from acting - at least, not this time.
The great demand incites the freeloaders, who gather in different places throughout the city to try and sell the tickets at the highest possible price.
One of them is Central de Eventos (Events Centre), place destined to the exchange of tickets bought on the internet. Many go there also to try and see if they are lucky enough to find any being sold. On the way out, there are plenty freeloaders, who behave friendly and kindly, as if they were long time friends with the "customer". The whole transaction is done very calmly, no one gets inhibited and they are not approached by anyone.
Eyes seem to shine at every opportunity. The offering for the Brazil game was R$ 2.000 (approx. US$ 889) for categories 2 and 4. Although the tickets to these areas had been sold by Fifa for much less, what really counts for the tickets dealers is getting the money and passing a ticket for those who are interested.
According to them, a ticket to category 1 - a privileged place in the stadium - cost, in the federation's site, R$ 660 (approx. US$ 293). Over 200 percent of profit, imagining an even lower original value paid for the available categories.
"How many do you want? Do you want 10? I have. Do you want 15? I have. If you don't have any cash, you can make me a bank wire transfer, pall. Even the credit card machine we do have, ok?", publicizes one of them, who insists in giving his telephone number for further message exchanging. Area code 98 denounces that the dealer has relations with another State - in this case, Maranhão (Fortaleza's area code is 85).
Offers pouring
Seconds after our reporting team got the R$ 2.000 offer, a car parked near the dealer and the price had already increased by R$ 200. It looks like, according to the client's profile, the price changes.
Besides selling, they also buy tickets, if the opportunity is convenient for them.
Many vehicles stopped by the dealers, looking for something of interest. Anyone who got bare handed from the Centro de Eventos was soon approached by one of them, with questionings about "how did it go there?". The denial soon started a negotiation.
Our reporting team saw around six or seven of them in the act. The telephone of one of them, by the way, wouldn't stop ringing.
Coincidently, one of the clients who got there to buy tickets already knew one of the dealers. A few days before that, the person had sold one of his extra tickets to the man. The recent relation soon gave start to a more cheerful conversation.
Another option
Beira-Mar avenue, a traditional spot of the city, famous for gathering hotels and tourists from many parts of the world, is another of the dealers favourite places. As soon as the night falls, there they go, looking for gringos* with their pockets full of money.
"Many Colombians are arriving without tickets. Which one of them would have expected their national squad to get to the quarter finals? Almost none. Time to try and make some profit is now", remarked one of the dealers.
On the day of the match, the tendency is Centro de Eventos to become a central for illegal and open tickets commerce, since that's the initial point for many buses to Castelão.
So far, in the World Cup, 150 dealers have been arrested with tickets (original and falsified ones), and with cash. "Some of them don't know how to work. One gotta leave everything separate, so that they don't get in trouble. If you ask me if what I do is fair, I say it is", says the one who seems to be the leader of the pack.
For the World Cup final, in Rio de Janeiro, our reporting team got information that the tickets are already being sold for R$ 10.000 (approx. US$ 4.445).
Connected
To access the tickets, many go to the internet. A software that makes the user have the priority in Fifa's website is one of the dealers' favourites. By using it, they soon get alerted of the availability, at any time. Nights are lost in search for tickets. And don't you dare suspecting that they are trading falsified tickets. "We don't do such a thing. I guarantee, I give you my phone number and everything else you may want", he said.
The social networks also got included in this scheme. Tickets were offered for alarming prices, such as R$ 6.000 (approx. US$ 2.667). Despair and passion for football have spoken louder and many got tempted to pay an astounding price to watch a football match. It is worth reminding that, in Brazil, illegal tickets sales are a crime and those who buy the tickets are also committing a felony. The punishment varies from six months to two years of arrest.
* "Gringo" is how Brazilians call foreigners.
Translated by Raquel Sodré