James Rodríguez and Cuadrado: the Colombians who worry the Brazilian
Los Cafeteros have in their cast the championship's highest scorer and the "server"; Fernandinho asked for double attention next Friday, in Fortaleza
iG Minas Gerais | Josias Pereira |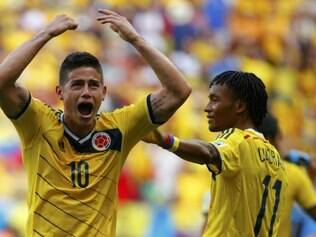 Next Friday, at 5 p. m., in Fortaleza, the Brazilian squad goes onto the field for the quarter finals of the World Cup. After a heroic qualification against Chile, this round's adversary is going to be Colombia, team that has been presenting the best football of the dispute so far. Los Cafeteros have nothing less than James Rodríguez, the Cup highest scorer of the moment, having scored five goals, besides other important offensive pieces, such as midfielder Cuadrado, the best "server" of the championship, with four assistances.
At a press conference in Granja Comary, centre-midfielder Fernandinho spoke well about the Colombian squad and demonstrated that the national squad is alert to the pair's quality.
"I faced James at the Champions League. He got in during the match and showed technical quality. He's got a good control of the ball and brings strikes to completion very well. He showed everybody that the money paid by Monaco for his hire was a good investment. In the match against Colombia, we mustn't give them any minimal space to orchestrate strikes on the midfield", said Fernandinho.
Cuadrado's move on the left wing was also highlighted by Fernandinho. "I watched their first game (Colombia), against Greek, and the first goal drew my attention, because Cuadrado went forward on the left wing and was reached by Armero. They arrive very calmly to finalize the strikes, with wings and midfielders. James and Cuadrado are Colombia's main linkers", he declared.
In order to keep alive the dream of the sixth world title, the Brazilian squad will have to be very attentive. The highly technical football brought by Colombia will make Felipão's soldiers shorten the spaces and work the ball more fastly. On this point, Fernandinho is also aware that the Brazilians' centre-midfielders are going to be essential.
"Colombia is different from Chile. They like to attack more. They like to support more. Their midfielders get more into the goal area. At scoring, all the South-American squads are courageous. They score strongly, come close. Against Brazil, every time they get onto the field is a competition. We must know how to handle that", he concluded.
Translated by Raquel Sodré