Without Luiz Gustavo, Fernandinho volunteers for first centre-midfield
Brazilian squad midfielder highlighted his tactic discipline, and made it clear that everything is worth it to help the national squad in another complicated challenge
iG Minas Gerais | Josias Pereira |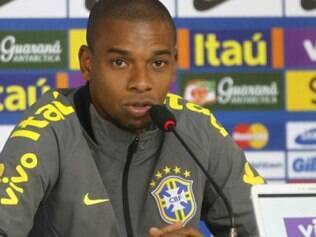 He has been one of Luiz Felipe Scolari's big surprises, virtually, the one who got his ticket to the World Cup at the very last minute. But he only needed a quarter of a game on the field against Cameroon to take on as start lineup of the Brazilian squad. At the duel against Chile, for the last 16 of the tournament, however, Fernandinho has been away from the efficient football that has granted him a thought by the analysts when it comes to the squad's midfield.
Against Colombia, next Friday, in Fortaleza, he shall gain a new opportunity. And, to guarantee the big match that may seal Brazil's passage into the semifinals, it's even worth a position change. The squad won't be able to count on Luiz Gustavo, who got suspended by his second yellow card at the tournament. Therefore, Fernandinho may play backward as first centre-midfielder, and Paulinho would return to midfield.
"I face it naturally (the position change). At the summoning day, I was called as first centre-midfielder, that's how I play in England. I played all the last season like this and there won't be any mystery. But if he opts for another, there won't be a problem either. What's important is that we'll keep the balance", declared the player.
"Each player has their own style. When I'm playing as first centre-midfielder, I focus on the score and closing the spaces so that I don't allow the adversaries to play. Each one has a playing fashion. I'll try and adapt to my fellow's style, the one who's going to play by my side", Fernandinho added.
Besides Fernandinho, coach Scolari may opt for summoning a fullback to occupy Luiz Gustavo's place. In this scenery, Henrique shows up as the main solution. In the trainings done at Granja Comary, the defender already acted as centre-midfielder. The doubts may be cleared from this Tuesday (01) on, day when Felipão will start making the first draft of the team that shall face Colombia in Castelão.
Translated by Raquel Sodré