Watching the Cup games in the box seats is delightful
Among a predominantly masculine public, women who go to Mineirão box seats are full of important and famous designer brands
iG Minas Gerais | Helenice Laguardia |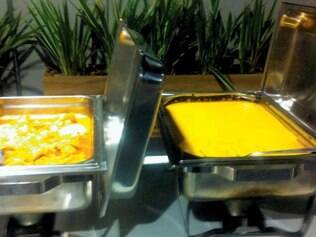 At a hotel hall in Belo Horizonte, a profusion of languages, and teams jerseys colours mix harmoniously. At least three balconies wait the box seats chosen ones to another day of World Cup games in Mineirão.
Most of them are executives, to whom big companies want to pamper, in a well planned networking. Others are raffled off employees, chosen for the party. And what a party. From the hotel, transportation with free access to the stadium's surroundings. A material stripe is put around the guest's wrist by smiling receptionists and that grants accesst to a carpeted floor where the box seats are.
Among a predominantly male public, women who go to Mineirão box seats are loaded with famous and expensive design brands products. French Louis Vuitton and North-American Michael Korrs handbags are easily seen. Round their ears, diamond ear pendants, but low-profile ones - so that they wouldn't brag too much on themselves. Glasses to rebound the sun may be a Ray-Ban and, on women's feet, trainers, or sometimes, high-heels sandal. On men, Prada sunglasses are welcome. Ralph Lauren shirts also.
Pampering. While I had a Cucumber Collings - drink with cucumber very refreshing and adequate for the hot day of the match between England and Costa Rica - barman Newmar told me that, during Argentina and Iran game four litres of Ketel One vodka, two bottles of Tanqueray gin, two bottles of Ypioca cachaça, two bottles of Zacapa rum and uncountable long neck beers have been consumed. All that besides French champagne Taittinger, very fresh. Working as a barman for ten years now, he told me that the Cup is worthing all his whiles. He earns R$ 220 (approx. US$ 98) a day, for around 12 hours of work. "At Belo Horizonte market, I earn R$ 150 for seven hours. We are not well paid, but we have fun", he joked.
While I wandered down the box seats hall, protected from the crowd out there, a uniformized attendant informs me that the area I'm in has the best bos seats because they are private. "At the lower floor, the box is open, and the seats are beside it", she explained.
At the end of a four hour party, I still get a Cup glass, Fifa souvenir of this championship in Brazil. A VIP's life is, indeed, a very pleasant experience.
Buffets have appetizer, main dishes and beverage free
In a 35 box seats wing with air conditioning, bars and tables with a varied buffet of hot dishes, salads and desserts are distributed throughout the place. Among four kinds of appetizers, three kinds of desserts and a row of hot dishes, an attendant tells me the service gathers four different buffets. Fifa has chosen three different menus and, at each game in Mineirão, they alternated.
At the box seats bars, three friendly attendants show a standardized cocktails menu. There lie distilled beverages, champagne, wine and beer, besides the soft drinks with water, sodas and juices. Oh, and to close the pampering, there is still an espresso, if you may want so.
Kind barman Newmar tells me that in Mineirão's box seats, the nationality with biggest presence up to the moment have been the Colombians.
Translated by Raquel Sodré