Emotion that orchestrates strikes and overflows through the eyes
Brazilian squad players have been criticized for crying "before the right time"
iG Minas Gerais | Thiago Nogueira and Ludmilla Pizarro |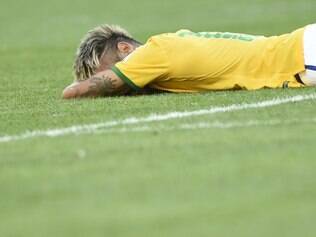 Pressure, responsibility, the moment of going down in history or becoming a villain forever. The Brazilian dramma against Chile, at the last-16 round of the World Cup, shows how cruel it may be to dispute a world championship, at home, to the human beings who form the national squad. Whether at the national anthem time, after a much desired goal or at the end of the game, it has been common seeing players burst into tears, as happened at the dramatic qualifications into the quarter finals against Chile.
For the psychologist Isabela Saraiva de Queiroz, professor at the psychology course of Puc-Minas university, these cathartic moments are not harmful. "Football, definitely, isn't a sport only objective. Many are the variables which interfere with the results and emotions may be a pro one, specially if it's related to companionship and to team spirit", she said.
The players seem to agree to the psychologist's analysis. "I cried a lot, for everything that came to my mind. I prepared so much for this, dreamed about it since I was a child. I cried because I was touched, but those were tears of joy", explained Neymar, after the match against Chile.
The feelings overflown into tears, however, generated critics, as if the players were missing emotional control. But delegate Renata Oliveira, of 2nd police district of Contagem, disagrees. Although she must manage to have much control for her routine at work, she said that, if she had been on the field, like the players, she would have cried too. "Should I have been in their shoes, I wouldn't have been able to hold it. I couldn't expect any more emotional control from them. After the game, adrenalin sets down and emotions come through", analyses the police officer.
For the Brazilian squad doctor, José Luiz Runco, it was all part of the growing process. "A game like this provides a big emotional maturity, which is very interesting", he said.
Apart all the different opinions, fact is that the players are united in a companionship feeling. Winger Willian, who lost the first Brazilian penalty, got David Luiz' support. "When he (Willian) lost, I knew what he was feeling and told him that his moment to shine at the Cup isn't this, it is yet to come", remembered the fullback. In front of so much tension, the players guarantee that they didn't think of the worst outcome for the match. "We have always been confident", said Willian.
Critics reflect a classical vision of masculinity, says psychologist
Since the match between Brazil and Mexico, when Neymar cried moved by the moment, during the national anthem's broadcast, some critics have shown up. Former player and now Uol's site blogger, Neto published, after the so said match, a text entitled "No point in crying before the right time!!!", in which he said: "From my point of view, our N10 is showing a certain degree of emotional instability".
These critics, however, may be a reflexion of the classic assertment that "men mustn't cry". "The football player's image as a male, and of football itself as a masculine thing, is really strong. It organizes the way the ideals of virility are transmitted. Almost every boy gets a ball from his father. And, at the World Cup, they are seeing their idols crying in front of an adversary. How is a father - one of those who think boys don't cry - going to explain that to his son?", explains the psychologist Isabel de Queiroz.
According to her, this fear of crying also comes from a certain idea of miscontrol, related to feelings demonstration. "Crying is seen as something which couldn't be gone around by reason. In our rationality and objectivity world, crying is a threat, something that has uncontrollably erupted".
The psychologist also recommends professional help for the national squad's players. "Some of them, like Julio Cesar, need psychological follow-up. I think there is a lot to be elaborated there, much crying to be done. He seemed very hurt to me, and he needs space to elaborate these feelings so that this doesn't happen at the match", she concluded.
Translated by Raquel Sodré