Schweinsteiger and Podolski celebrate Brazilian victory
Site of German Football Federation shows the two players tangled in a Brazilian flag celebrating Scolari's team asset on penalties
iG Minas Gerais | DA REDAÇÃO |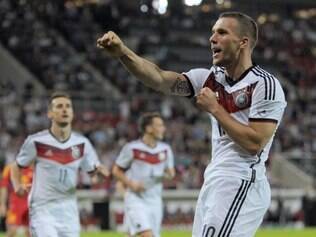 The German aces Bastian Schweinsteiger and Lukas Podolski followed Brazil's classification against Chile on Saturday (28), from their training center in Bahia.
Along with local officials and even holding a flag of Brazil, the German stars celebrated Brazilian win in the shootout, as shown in a video posted by Football Federation's of their own country. Germany faces Algeria, on the next Monday (30), in Porto Alegre.
Brazil and Germany may face each other in the semifinals of the Cup if both pass by their rivals on different sides of the key.
Party!
Schweinsteiger, next to goalkeeper Neuer, had already appeared in a video recorded in the village of Santo André, near Campo Bahia (the German concentration), dressed on a Bahia team's shirt, jumping and shouting the anthem alongside Bahia's supporters.
Translated by Henrique Bastos