A new golden generation
With unprecedented feat, Colombia beats Uruguay and faces Brazil ahead; ironically, blue-white squad leaves the World Cup with a setback in a full Maracana.
iG Minas Gerais | DA REDAÇÃO |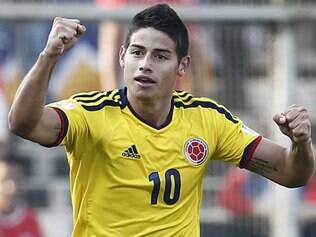 History is made by unforgettable moments often orchestrated by great men, being able to overcome limits and score big.
This Saturday, the golden generation of 1990 was overcome - but not forgotten, of course - by a new breed of superstars headed by Number 10 team, James Rodriguez, who is the current top scorer in World Cup with five goals.The victory by 2-0 on Uruguay - two goals from Rodriguez - served to Colombians 'forget' hard Cameroon Roger Milla in 1990, and reach the quarterfinals of the World Cup - their first time.
It also proves that the new golden generation has the necessary bag to get face to face to Brazil in the clash to be played at Castelão, in Fortaleza, on July 4th.Legendary stars like Carlos Valderrama, Faustino Asprilla and Rene Higuita are now cheering for higher flights from the new ones.
For the Uruguayans ramains the sadness of not being able to overcome the trauma of loss Luisito Suarez and end up being 'rendered' by a more organized team which players make the difference during the match, as Ospina, Cuadrado Jackson Martínez.This way, the blue-white squad has ironically fallen in front of a full Maracana, scene of great achievement of the Uruguayan national team where they won the World Cup in 1950 against Brazil.
The match started without much inspiration from both sides with the teams having trouble to exchange passes near the opponent's defenses and, of course, without scoring. This sleepiness was only stopped after 27' by the genius of James Rodríguez.Colombian striker controlled the ball with chest, put it on target and hit a beautiful shot. The archer Fernando Muslera even touched the ball, but could not prevent the great goal from Colombian number 10.
After that, Colombia began to dominate the match in front of an apathetic Uruguay would rather bet on fruitless counterattacks. At the forefront, Forlan and Cavani were easily blocked by the Colombian defense, in a good performance of Zapata.Early in the second half, James Rodriguez made ​​again the yellow part of the grandstand burst into cries of joy. After Armero's play by the left, crossing the field, Cuadrado left a chance for the Number 10 score his second goal in South American duel.
The goal took the golden squad to retreat and await the advance of Uruguay, that grew up in the confrontation, and forced Ospina to make great defenses - frustrating Cavani and Stuani and ensuring Colombian triumph.
Translated by Henrique Bastos