Going to a match by bike? See how we did it!
Although Fifa hasn't allowed it yet, we managed going to the stadium by bike for the duel Brazil vs. Chile coverage
iG Minas Gerais | LEANDRO CABIDO |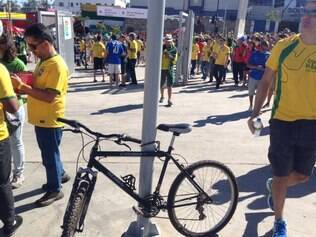 Using the bike as a transportation in Belo Horizonte has never been a comfortable task. Now, figure going on a bike to a World Cup arena? Mineirão, one of the main Brazilian stadiums, has 97 places for the supporters to park their "skinnies". However, at Brazil vs. Chile duel, for the last-16 of 2014 world championship, this possibility is not available. So, how did I manage to go for the game's coverage on the alternative transportation?
Parking the bike at Mineirão
The easiest part was entering the space destined to the supporters with the bike. At Alameda das Palmeiras Fun Walk - one of the paths created by the organization to ease the access to the stadium - there was no jam. I passed through the supporters, walking with my transport invisibly and nicely.
At the first police barrier - at Palmeiras and Coronel José Dias Bicalho corner, at São Luis neighbourhood - a little and previsible deadlock: a military policeman questioned me where I would leave the bike. I informed him that there is a bike parking lot at Mineirão walkway and they let me through. At the second police barrier, no problem: they looked at my credential and freed the way.
I got to the stadium at 10 a. m. sharp - moment when the gates were open for the supporters. I went on to the walkway, trying, in vain, to find the so said bike parking lot. Luckily, and with some volunteers help, I managed to find a World Cup organization staff member, trying to get information on the space's availability. After some minutes on the radio, he informed me I couldn't go to south gate and that the place wasn't available for anyone.
After my questioning - and a lot worried - about what to do with my skinny one, and after complaining a lot about the impossibility to use the essential space on a World Cup confrontation, the employee suggested me to keep the bicycle by an information post at the walkway beginning. That's right: leaving the bike among the football fans, even me being inside the stadium. I asked him about the security, and the answer was: "Don't worry, I'll keep an eye for you".
And then I let the vehicle, locked, in the middle of a World Cup stadium, hoping to come back and still find it there. Intact. I could solve my problem with some flexibility. But, obviously, it was a far from perfection.
Translated by Raquel Sodré