Mineirão gets higher certification of sustainability
Minas Gerais stadium, stage for Brazil and Chile, this Saturday, is the first and only in the country to win the qualification
iG Minas Gerais | THIAGO NOGUEIRA |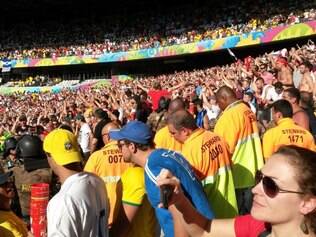 Last Friday (27), the day before the duel between Brazil and Chile for the last-16 World Cup, Mineirão got the Platinum Seal of the U. S. Green Building Council (USGBC), organ responsible for the certification used in 143 countries to encourage constructions projects, makeovers and operation transformation, focusing on sustainability of their actions.
This is the maximum category of the Leadership in Energy and Environmental Design (LEED), and Minas Gerais stadium is the first and only in the country to get the qualification. To conquer the certificate, Minas Arena concessionaire has covered eight items that are considered prerequisites, besides presenting sustainable innovations, as the renewable energy source of Mineirão, for example.
The Photovoltaic Solar Powerhouse, developed in a partnership with Cemig (electricity company of Minas Gerais), has an installed power of 1,42 MWp, with around 6.000 photovoltaic modules. All the energy generated is injected into Cemig's distribution web.
During the workouts, more than 90% of the waste generated was reused or recycled, the over 50 thousand seats have been donated to gymnasiums and stadiums, the metal residue was sent to recycling companies. The stadium has also a system to retreat water.
Translated by Raquel Sodré