"I'm not resigned going out this way", declared Sampaoli
Chilean coach said he is proud, but dissatisfied and asserts he has nulled the squad
iG Minas Gerais | RICARDO CORRÊA |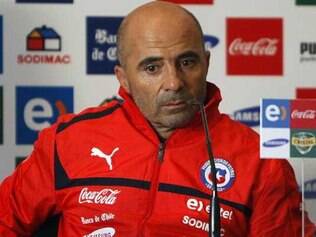 Argentinian coach Jorge Sampaoli, commander of Chile at the world Cup, said after the match that the is not resigned to going out of the championship this way, after a tough game against Brazil in which almost everything went right. The coach highlighted the whole time how difficult it is playing against the home team, in front of all the supporters, but he guaranteed, on the other hand, that he is going out happy for all his team has done. Proud, but not satisfied.
"How can I be satisfied with the performance and the result? Of course not. Playing against the locals, 120 minutes against all this effort of them, and losing this way, it's very difficult. We were convinced that we could go on to the quarters. The players did everything they could and I'm not resigned to going out of the Cup this way", he declared.
Calling the elimination by penalties a "random case", the Chilean coach also recalled the capital strike of Pinilla's ball hitting the goalpost at the match's last move. "In that moment, we almost made it to victory. We almost did the 'Mineirazzo'. It would have marked a historic moment for the Chilean people. Of course we expected for that. The pressure over the team and the tactical changes during the game make so that Brazil got neutralized. Brazil had its doubts about trying to attack. Brazil didn't give up, but didn't create goal situations. After that, they waited for the penalties. Didn't press too much. In the end, we almost won the game. And that would have given us a moment of joy. To all Chileans", he lamented.
Although he highlighted the Brazilian squad nullification, he praised the Brazilian team. He avoided, however, to evaluate which chances Brazil has in the rest of the competition. "This we shall see in the future. And the Brazilian squad coach has to answer to that. It's a solid team, compact, complicated. And which has arguments to think what has been started and thought for this Cup. We are going to see if it's going to grow stronger with this to face next games with more confidence", he said.
Translated by Raquel Sodré