Emotion at Dandara and Willian Rosa urban occupations on a game day
Reporter visits Dandara and Willian Rosa occupations on a Brazilian game day; read the story
iG Minas Gerais | BERNARDO MIRANDA |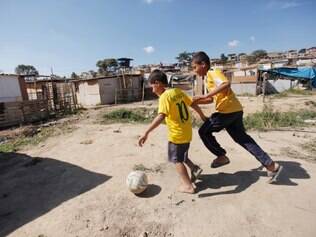 The ball rolls on the red dust in a dispute among the feet sized 34 and 36. The brothers Isaac and Guilherme Duque, aged 6 and 8 respectively, only quit their street football to watch Brazil's match on the TV. They run to the shanty they call home, at Willian Rosa urban occupation, at Contagem (19 km from Belo Horizonte). Then they struggle with the TV antenna to get a less messy image at the device, which only works due to an illegal electricity connection. Although the World Cup is seen in a critical vision by the social movements that fight for housing, the kids parents join in for the party.
"If Brazil wins, the pressure over the public administration that denies us a house gets smaller, but it's inevitable supporting the national squad", said the operational assistant Tatiane dos Santos, 26, member of one of the 1.200 families who live in the community.
Her son Guilherme's dream is becoming a football player and play in Mineirão, but for now he would happy to, at least, go to the stadium as a supporter. "My team is Cruzeiro, but I have never been to Mineirão. My mom says it's too expensive", he moaned, before bragging on himself for the fact that he now has a hot water shower at home.
While in Willian Rosa the community is still forming itself, at Dandara, in Céu Azul neighbourhood, in the northern region of Belo Horizonte, the neighbours already gather in barbecues to watch the persistent draw.
Started in 2009, the first Cup the inhabitants of the place saw there was in 2010, at South Africa. Four years later, the conditions of the near 2.000 families who live in the place are way better. "My house was a wooden room, no power. Today it's all built in brickwork and I have three rooms", celebrates the gardener Manoel Alves, 36, a little before the penalties victory.
"It was a sufference, just like our struggle for our own house", he declared before going to the street to celebrate with the other neighbours, who were barbecuing, cheering for the national squad.
Translated by Raquel Sodré