Crying, Julio Cesar remembers day when he was the villain
Goalkeeper highlighted his bounce back after defending two penalties against Chile for the last-16
iG Minas Gerais | DIEGO COSTA |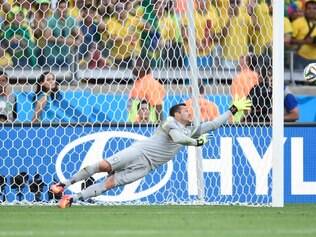 Goalkeeper Julio Cesar had an unforgettable afternoon in Mineirão. Having defended two penalties against Chile, he was fundamental for the Brazilian classification to the World Cup quarter finals.
After the match, the bowman didn't hold his tears when he talked about the emotion of his afternoon at Mineirão and didn't forget the difficult moment lived at the Cup in South Africa, when he failed at the second Dutch goal, in the quarter finals.
"The pressure is too strong for playing at home, it's complicated talking about the psychological aspect. Four years ago, I gave a very sad interview, I was upset. Now I'm repeating it, only with joy. Only God and my family know what I have passed and what I go through even today. But I know my history in the national squad isn't over. My fellows are very supportive for me to go on. There are three steps to go, for Brazil to celebrate. This is my big dream", said Julio Cesar to Fifa's website.
The goalkeeper also praised the Chilean squad, which made it hard for Brazil at the 1-1 draw. In the end, victory 3-2 at the penalties was very celebrated by the supporter who's been to Pampulha Giant.
"We waited for the opportunities (in the game). Despite the first half, we have created a lot. Chile is very good and was able to make our game difficult. I must only thank my fellow players. Representing the country at home is really complicated", he concluded.
Translated by Raquel Sodré