Suspect gunman during the Cup opening has been under sniper's aim
The case started a crisis among civil and military police, who presented different versions to justify the presence of the man at the place
iG Minas Gerais | DA REDAÇÃO |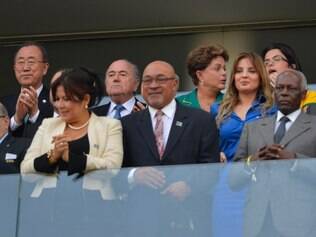 A communication error put at risk the life of a gunman who walked near the visitors gallery, where authorities like Brazilian president Dilma Rousseff watched the Brazilian squad premiere at the championship during the event's opening.
The suspect, who didn't have his name brought to public, is a policeman who hadn't been introduced to the team responsible for the security of the heads of states. During the match, a sniper asked permission to his superior to eliminate the suspect and had his request denied.
The shoot would take away the policeman's life and would hurt the Brazilian championship's image. The fact has taken to reinforcement of the security team of the event and is being investigated by the Public Security Secretary.
The case has started a crisis among civil and military police, who presented different versions to justify the presence of the official at the site. According to the Public Security Secretary, the episode has been a reflex of a communication error which was quickly solved, without any further consequences.
*Translated by Raquel Sodré