Felipão: Neymar doesn't play for being the best of the world
Brazilian squad coach praised Messi and didn't leave doubts that Brazil N10 has "only" eyes for being world champion
iG Minas Gerais | Felipe Ribeiro and Fernando Almeida |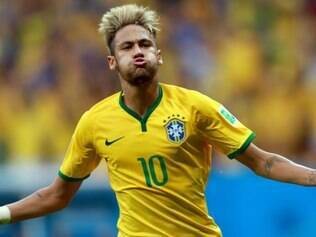 The press conference with Luis Felipe Scolari and Thiago Silva was full of Argentinian journalists and, due to that, one question became inevitable: "Is Neymar better player than Messi, as has declared Ronaldo?" Felipão frowned and, of course, praised the "hermano" forward. As for Neymar, the Brazilian coach followed the same way of thinking, but pointed out that Brazil N10 has playing for Brazil as a priority, and not only trying to receive the honours.
"Messi is one of the greatest in the world and Neymar walks towards this. There's one thing I want to tell you all: Neymar doesn't play to be the best of the world. He plays for Brazil. And he wants to be world champion", said Felipão.
As Neymar is a usual subject of the interviews given by the coach, Scolari seems to already have at his fingertips the adjectives to use in regard of the forward, and he is not "afraid" to use them whenever possible.
"Despite being so young, Neymar is a very focused boy. He's got focus, ideas, a very strong personality. He is collaborative, always involved in tactical situations and helping with the team's balance. His evolution, as he has all this (family) support beside him, is something that could happen easily", added the coach.
Neymar and Messi hold an exciting competition for the title of highest scorer of Brazil World Cup. Each one has four goals scored in the tournament and share the top of the ranking with German Thomas Müller.
Translated by Raquel Sodré