Supporters and journalists "ambushed" at Sesc Venda Nova gates
Press professionals, Nova Letícia neighbourhood dwellers and curious people are in front of where the Brazilian squad is training
iG Minas Gerais | THIAGO NOGUEIRA |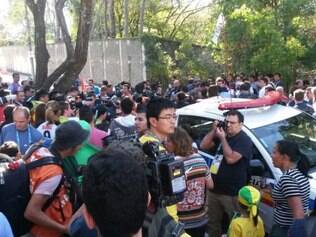 Journalists, dwellers and curious people's buzz got big around Sesc Venda Nova this Friday (27), at Nova Letícia neighbourhood. This is the place where the Brazilian squad does their last practice before the match against Chile, on Saturday (28), for the last-16 of the World Cup.
The reporters' entrance will only be authorized half an hour before the end of the activities, which started at 1 p. m. According to the region's dwellers, since Thursday (26) journalists have been visiting often the place, searching for angles from where to observe the practice - which is not possible, because the field is down a valley.
Before Brazil, the Chilean squad and under-20 teams of Chile and Argentina had used the place. Access, at Sesc's gates, is controlled by the police. Only dwellers are authorized to pass through. While the practice is not open, reporters record interviews and chats.
Translated by Raquel Sodré