Frustrated, mini David Luiz doubts the "real" existence of the idol
Little Celso already cried for the Brazilian squad, has been to the team's hotel in BH but still didn't manage to clear the doubt that keeps his father from sleeping
iG Minas Gerais | JOSIAS PEREIRA |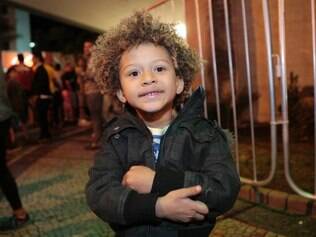 Every time little Celso, 4, goes out, it's impossible not to associate him with Brazilian player David Luiz. Who says is the boy's father, Celso Fábio de Menezes, who proudly speaks of his kid. At the squad's arrival to Belo Horizonte, this Thursday night, the boy enjoyed the fame of being similar to the fullback, but not fully.
"He gets angry when people only call him David Luiz. Right away, he goes like 'my name is Celso'", said the father, who soon pauses the interview so that a stranger may take a picture with his son. "It's always like this. One of these days, we got stopped by some Argentinians. 'We want to take a picture with Davizito', they said. There have also been some iranians", remembers the father, who is a businessman.
Despite his photogeny, Celso junior is shy when he is asked questions about his idols. But the father comes with an explanation right away. "He doubts David Luiz really exists. That's why he doesn't want to talk about it".
Well, all this started at Brazilian squad's first match at the World Cup. After a party with his cousins, little David, or put better, Celso, fell asleep minutes before the beginning of the duel against Croatia. After the end of the game, he woke up and got shocked when he came to know that the battle in Itaquerão was over.
"He cried his eyes out. He couldn't believe he had missed the game. Since then, I'm having trouble making him believe that David Luiz really exists", said the father.
Little by little, during the interview, the young boy's curiosity starts to bloom. Questions about the players, about how the reporters saw the squad's arrival, about what "all those people" were doing there. But when we finally got to David Luiz... "Oh, I think he doesn't exist", mourns the boy.
Not even a picture of the fullback makes the kid clear his doubts. "If he is there (in the cell phone), why have I never seen him?", he wisely questions. "My father says he is in the television, but that doesn't count either. It's too far away", adds Celso, smoothing his fashionable hair.
Now, to the father, it's a matter of honor making the son regain trust in the idol's existence. "We do everything for a kid. I am going to stay here at the team's hotel, I'll go to where they practice, and I'll make my son see David Luiz and keep believing he exists. They are both very similar, either physically or when it comes to their character. David Luiz would be proud of meeting a kid like him. Who knows one day we don't come to really meet him", dreams the father, who greets the reporting team goodbye, once again interrupted by a stranger's request for a photo.
Translated by Raquel Sodré