With Neymar marked in his skin, fan dreams about idol's autograph
Unconditional fan of the Brazilian squad's ace already awaits the N10 at Ouro Minas hotel
iG Minas Gerais | Josias Pereira |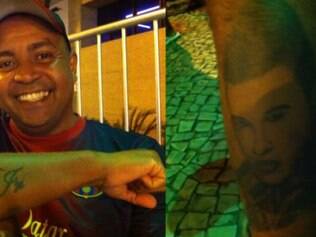 Anxious for the Brazilian squad arrival in Belo Horizonte, some supporters already gather at Ouro Minas hotel. Among them, is hospital receptionist Antônio Carlos de Freitas, 43, an unconditional fan of Neymar.
"I took advantage of the fact that I am on vacation and got here early. I can't afford losing this chance of seeing Neymar", he declared.
Wearing number 11 jersey of Barcelona, same one used by the Brazilian ace, the supporter insisted in showing his "devotion" to the player on his own body. "He is the ace, a football genius. Watching his performances, the passion only grew and I had the idea for the tattoos", he said.
The first tattoo is on his arm. A "NJ", Neymar Junior's initials. But don't think it's over. On his left leg, the receptionist tattooed, twice, the Brazilian squad's ace's face. "Everything is worth for Neymar. Wherever he is, I'll be there", said the supporter, who told us he already met the idol when he played for Santos.
"I insisted in coming here, at Ouro Minas, with Santos jersey. He gave me an autograph. Hope I have the same luck of that day. It's going to be very touching", declared Antônio, who lives near the hotel.
In order to reach his goal, the supporter has even traced a strategy. "Tomorrow (Friday), I'm going to be here at 6:30 a.m. I'm going to stay here until Saturday. If the squad gets eliminated, no problem. Neymar will still be an ace", he concluded.
The Brazilian squad faces Chile, this Saturday (28) at 1 p.m. in Mineirão stadium, competing for the last-16 of the World Cup. Highest scorer of the Cup with four goals made, expectations are for Neymar to be, once again, decisive.
Translated by Raquel Sodré