New fever, Cup glasses turn into exchange object among host cities
It's common to see, after the duels, supporters go home with lots of glasses fitted one on top of the other, as if they were a big cup
iG Minas Gerais | Thiago Nogueira |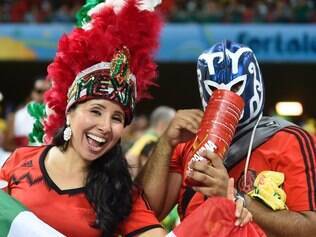 No matter the stadium or the match, the soda and beer glasses sold at the World Cup matches - personalized with the date, city and duels - have already become a fever in Brazil. Right. After the World Cup Album cards, the championship has its new collection wave.
Who has been around the stadiums must have noticed. When the match ends, it's common seeing supporters go away with lots of glasses fitted one on top of the other, like a big cup. The souvenir, on the other hand, has become an obstination.
On internet, many supporters are proposing "exchanges" among the host cities to get all the 64 different glasses models - one for each match of the competition.
Specialized website Mercado Livre (South-American equivalent of e-Bay) already has some announcements. "I'm from Rio and I'm going to all the matches here. I look for people who are going to watch World Cup games and want to get the glasses so that we may exchange them - preferably, people from the North, Northeast, Curitiba and Brasilia", proposes a collector.
"Due to so many questions and exchange proposals, I've been a bit dazzled", said another supporter who, at the moment, prioritizes free changes. But there are others who are trying to sell the object. For R$ 30 (approx. US$ 13), another person put for sale the glass of the match between Costa Rica and England, in Mineirão. At Fifa's menu, a 600 ml soda, which comes with the glass, is sold in the stadiums for R$ 8 (approx. US$ 3,5). The beer costs R$ 10 (approx. US$ 4,5) or R$ 13 (approx. US$ 5,7), depending on the brand.
Translated by Raquel Sodré