BH won't have a security reinforcement for Brazilian squad match
State and municipal administrations are also going to place events throughout the town to avoid supporters' concentration in a same place
iG Minas Gerais | Bernardo Miranda |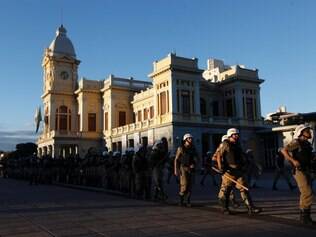 No reinforcements for the security scheme and with events throughout the city in order to avoid supporters' concentration in a same place. That's how Belo Horizonte's State and municipal administrations are preparing to host the match between Brazil and Chile, for the last-16 of the World Cup, next Saturday in Mineirão.
Around 30 thousand Chileans are supposed to arrive to Minas Gerais capital, most of them not having tickets, since this will be the match with greatest number of Brazilians in the stadium: 70%, according to the city's authority evaluation.
At a press conference this Thursday (26) morning, Tourism and Sports State Secretary, Tiago Lacerda, asserted the city is ready to host a game of this proportions and that the security scheme won't need be altered to guarantee security in and out the stadium.
"As we received the other games, we improved our performance. We had games in which the demand level was similar to what we are expecting to be on Saturday (28) and all went well. When Argentina played, we had many supporters without tickets - as we are also going to have with the Chileans - and security worked fine. Fifa's perimeter protection worked well and the risk of an invasion, as happened in Maracanã, is minimal. As for being a Brazil game in Mineirão, one of the matches we have received here was before a national squad match and we could guarantee the security in the stadium and in other places where supporters gathered to watch the Brazilian match, like the Fan Fest and Savassi", said the secretary.
In order to host the Chileans, a partnership has been firmed with Mega Space, in Santa Luzia (28 km from Belo Horizonte), where there will be parking lots for up to 1.000 motorhomes, at a R$ 30 (approx. US$ 13) a person. Besides, the municipal administration will provide free vacancies. There will be 100 places in Lagoa do Nado park, at Pampulha, and 70 in Pampulha Ecological Park.
To avoid supporters concentration in one place, as we have been seeing in Savassi, the municipal administration will have spaces throughout the city with capacity to receive more than 50 thousand people. There will be 20 thousand at Fan Fest, 8 thousand in Savassi, the same in JK square, at Sion neighbourhood, and 15 thousand in Mangabeiras park.
The last one is the only where entrance is not free and will be charged R$ 70 (approx. US$ 31) a person. "We are offering a different entertainment options in each place so that we don't have an overcrowding problem somewhere. We are also reinforcing the structure in some places, like Savassi, which is going to receive 180 chemical toilets", said the extraordinary secretary for the World Cup in Belo Horizonte.
In first phase, around 228 thousand people watched the games in Mineirão and other 140 thousand have been to the Fan Fest.
Entrance
The Road Federal Police (PRF) informed that, during the Cup, the force has reinforcement of 300 police officers in their team, totalling 1.200 agents in every federal road passing through Minas Gerais. This is the greatest manpower of the corporation's history in the State.
This Friday (27), a special scheme will be orchestrated due to the extra movement that the Chileans and Brazilians from other cities arrival will bring to Belo Horizonte.
Translated by Raquel Sodré