Suárez gets punished with nine games and is out of the Cup
Uruguayan player bit Italian Chiellini's shoulder last Tuesday (24) and also got four months banished from football
iG Minas Gerais | DÉBORA FERREIRA |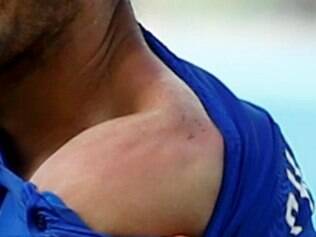 Uruguay thought they had solved their problems with forward Luis Suárez' recovery. He is the author of two goals at the victory over England. However, the rush to recover the player in time for the World Cup was little worth it: the bite on Italian Chiellini's shoulder granted the player a punishment of nine matches and four months suspension of any football activity. The athlete is also condemned to pay around US$ 110 thousand to Fifa.
The vampire act was played last Tuesday (24), when the Celeste got a dramatical classification over Italy by winning 1-0, with a goal scored at 75 minutes. On a strike considered silly, in which Uruguay was attacking, the player simply bit the adversary fullback. The referee of the match didn't see the fact and didn't even give him a card - although Chiellini showed the teeth's mark.
According to an official Fifa report, Liverpool's forward disrespected article 48 of the Disciplinary Code of the entity and must start carrying out his punishment immediately. Besides the Cup, the banishment is also valid for any official match disputed by Uruguay. He is also forbidden to get into any stadiums or any ambients in which the Uruguayan squad is concentrated.
"This kind of behaviour can't be bore inside a football field, and certainly not on a World Cup, when thousands of eyes of the public are focused on the game. The Disciplinary Committee took into account all the culpability factors of Mr. Suárez, following what is stipulated by the Discipline Code. The decision is valid from the moment this report is published", explained Fifa.
It was for a close shot that Suárez didn't stay out of this World Cup. Less than one month to the competition, he went through a surgery in his left knee and passed an accelerate treatment so that he could be ready. In the competition, he was left out of the opening match against Costa Rica and was the name of the game on the victory over England.
Translated by Raquel Sodré