Brazilian squad comes to BH to be new boss in town
After Argentine dominium at the capital during the World Cup's first phase, Brazil, who is playing against Chile in Mineirão, promises to shake Brazilian supporters
iG Minas Gerais | Guilherme Guimarães and Felipe Ribeiro |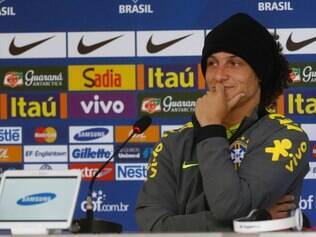 Brasilia (DF). In Minas Gerais, big football foes are Atlético and Cruzeiro, two of the most traditional clubs in the country. During the World Cup dispute, the duels between the Cock and the Fox (the teams' mascots, respectively), goes on a break and the rivalry atmosphere gets international proportions.
Classified for the last-16 of the world championship, the Brazilian squad has its next appointment scheduled to Belo Horizonte. Despite the adversary being Chile, another confrontation serves as background for this.
Minas Gerais capital has become the headquarters for the Argentinian squad, which has chosen Atlético's training centre - Cidade do Galo - as their base. Therefore, the arrival of Felipão's team to Minas Gerais happens, in the players point of view, in a crucial moment.
"Let's get it over with this Argentinian invasion in town. We arrived to be the boss and take care of everything", said fullback David Luiz.
The thousands of supporters wearing the blue-and-white jersey drew winger Oscar's attention. "Indeed, we did notice this Argentinian invasion in Belo Horizonte. Not anymore, we are taking this to an end. It's our supporters who are now going to boss around", said the Chelsea-ING player.
One of the midfield Brazilian stars, deep-lying wing Luiz Gustavo - who has conquered his place in Felipão's squad silently - expects strong support from the public at the duel against the Chileans in Pampulha Giant.
"The people from Minas Gerais are waiting for our arrival and we do want this affection a lot. Now all we have to do is do the math, uniting players and supporters, and strengthen our dream to go on towards our sixth title".
The Brazilian squad practices at Granja Comary, in Teresópolis (Rio de Janeiro State) this Wednesday (25). On Thursday (26), they travel to Belo Horizonte, where they are going to get familiar with Mineirão's field.
Translated by Raquel Sodré